Consumption:
1 x Sausage and Egg sandwich
1 x Peanut Butter sandwich
1 x Tea
1 x Piece of Chocolate (donated by Mallard Small Press)
1 x Apple
2 x Cheese Salad sandwiches
4 x Pints of Beer
1 x Bottle of Larger
4 x Chips

Things I wish I'd bought but didn't get round to:
1. Kate Beaton's book
2. James Turner's Beaver and Steve books
3. Some of Shug's stuff (God know's how I managed to forget - I was sat right next to him)
4. Banal Pig books
5. Thing Anthology
6. Ellen lindner's Undertow book
7. Liz Greenfields stuff (not sure if she had anything new?)
8. Liz Lunnys books.
9. Adam Cadwells Everyday books
10. Other stuff that I didn't even see.

I did manage a few trades: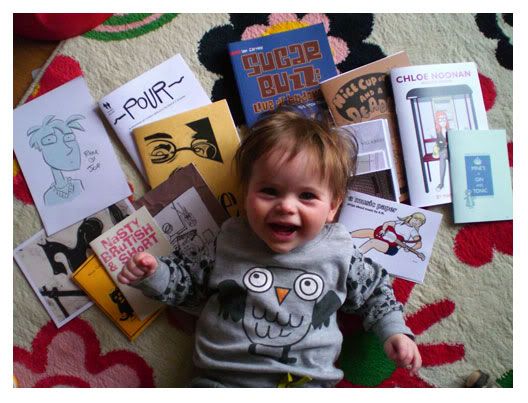 (not the baby, I found him at home)

Brilliant artists who I met for the first time:
1. Woodrow Phoenix
2. Rene Engström
3. Kate Beaton
4. Dale O'Flaherty
5. Marc Ellerby
6. Other people

Cheers to all the folks who stopped by to say hello, or shared a drink in the pub afterwards...